Ryan Seacrest Reveals What Inspires Him, How He Manages His Schedule & More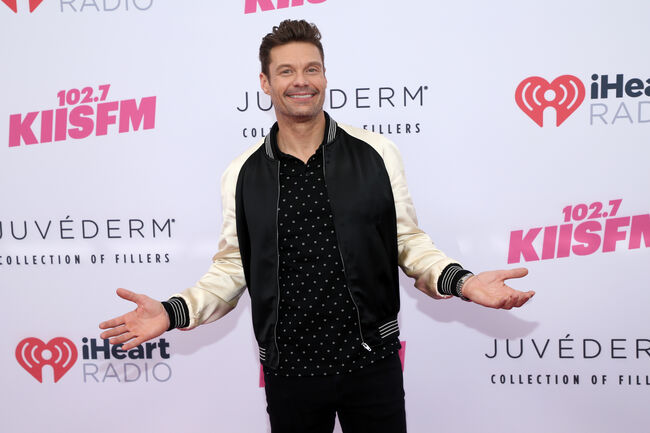 Ryan Seacrest is dishing all — from what inspires him, how he manages his hectic schedule and even who makes him starstruck. In a candid interview with Parade magazine, the On Air With Ryan Seacrest host talks about his life passions and more.
"The biggest question is 'How do I do what I do?'" Ryan shared of what fans always want to know. "I am also asked, 'What is my schedule? How do I get everything in? Do I sleep?' The answers are that I don't look at my schedule more than a day ahead. I love to be back-to-back with projects and not have downtime, and I don't get enough sleep, but I don't seem tired, do I?"
The true multi-hyphenate added that when he does get the chance to wind down, he likes to workout or, surprisingly, travel more.
"I do like to walk around the streets of Manhattan to relax. I enjoy walking home. I get massages, I do yoga, but what I love to do is travel," he said of his "me" time. "You would think that being on a plane so much of the time, I wouldn't want to travel. But I look forward to it. I enjoy traveling without a schedule and relaxing without my phone. Not having to make a plan or a schedule is often perfect."
Traveling also comes with enjoying local fare — one of Ry's favorite things to explore.
"The perfect dinner for me is a great Italian-style thin crust with a bottle of Brunello. I like it simple," he dished. "If it's a decadent meal, I like fondue. I like paella and other things that are cultural. I like things that are indigenous to a certain area, that's a specialty or signature of that country, is my favorite way to eat."
Speaking of food, he shared that he only gets starstruck when it comes to chefs and, recently, a motivational speaker named Brené Brown who stopped by the studio.
"[Motivational speaker] Brené Brown came on my show the other day, and she did this amazing talk on Netflix, and a Ted Talk. She is a brilliant person," Ryan explained of the professor and skilled storyteller. "I get starstruck not by movie stars and TV stars, but by chefs and others, I admire. I love to meet really talented people, but I get the most starstruck meeting people who are amazing in the kitchen and in great restaurants."
As for Ryan's life lesson he wants to share? It's all about gratitude. 
"My goal every day is to make everyone happy that I work for. I try to practice gratitude in the morning before I go to work," he concluded. "I have days when I'm grumpy and tired, like everyone else, but I think gratitude is something I've learned to implement into my life during the last couple of years."
Click here to learn more about Ryan!

Ryan Seacrest
Ryan is quite simply one of the most influential, well-regarded, and well-known names in Hollywood. He is the quintessential Hollywood insider who always manages to have the biggest scoops and the most sought after access to top events and celebrities.
Read more