Nicki Minaj & Ariana Grande Hit The Pool In Steamy 'Bed' Video Teaser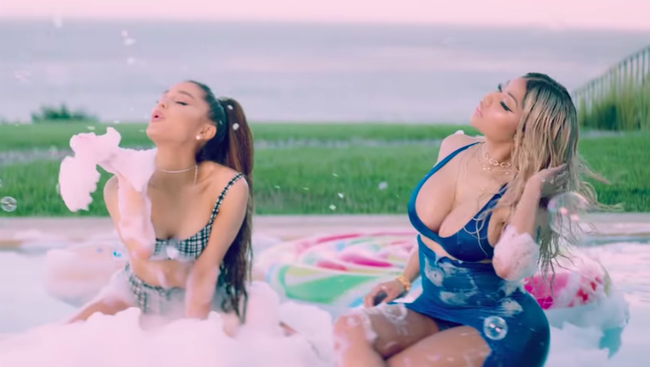 As one might assume, Nicki Minaj and Ariana Grande brought plenty of skin in the music video for their steamy new collab, "Bed," which will appear on the rapper's forthcoming album, Queen. On Tuesday (June 19), a brief teaser for the visual dropped and it shows the dynamic duo in skin-tight pieces in a pool filled with bubbles.
In the one-minute clip, Minaj and Grande rock the sexy pieces and sensuality as they make their way in and around the pool. It's intercut with clips of a breathtaking view that fronts their luxurious house and surely meant to give you all kinds of FOMO. Considering that "Bed" is the most added track on urban radio this week, we're guessing that you'll likely see the full version of the video in a matter of days.
The playful pop-friendly track, which was produced by Messy, Beats, Ben Billions and SupaDubs, hear the stars inviting lovers into their beds, with the recently engaged Grande serving hook duties. "Bed" isn't just fueled by sex. In fact, Minaj seemingly wants companionship to pair with her lust. "I watch him f**k it up, look at him luckin' up/ I said you need some thick skin, baby, suck it up/ He go insane on it, I put my fame on it/ Coulda put ZAYN on it, but I put your name on it," she spits during one of the verses, shouting out the former One Direction bandmate. Queen is due in stores on August 10.
"Bed" marks the pair's latest collaboration after "Bang Bang," "Get on Your Knees," "Side to Side" and "The Light Is Coming," their upcoming team-up off Grande's new album, Sweetener.
Photo: YouTube/Nicki Minaj